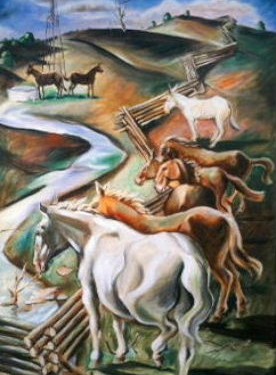 Joseph Vorst, "Springtime in Missouri"
Purveyors and Restorers of the Fine Arts
Painting of the Week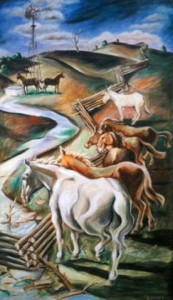 Joseph Vorst
"Springtime in Missouri"
Oil on Board
41″ x 25″
"Springtime in Missouri" is an important painting by the extrodinary WPA artist Joseph Vorst (1897-1947).
A composistion laden with symbolism relating to the issues of the day, this remarkable work has everything a collector cherishes. Missouri Mules and horses, a split rail fence,
and a windmill catching the breeze from a pending storm. We at McCaughen and Burr have had the privilege of representing the Estate of Vorst for many years.
He is represented in many museums
inculding the St. Louis Art Museum. Bolstered by a recent record setting price of $30,000.00 at auction
this painting will add a valuble addition to your collection. I hope you enjoy this unique piece as much as I do.
Price Upon Request
All the Best,
Scott Kerr