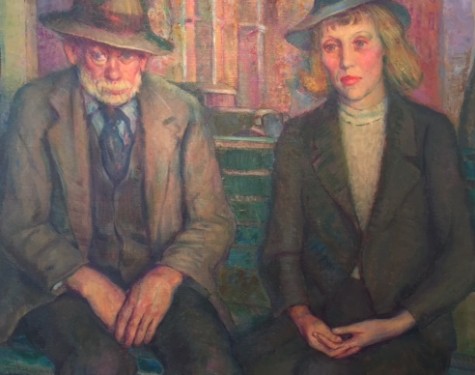 Alvin Metelman "13th and Locust, St. Louis"
Purveyors and Restorers of the Fine Arts
Painting of the Week
Alvin Metelman
1896-1948
"Thirteenth and Locust"
47″ x 37″
Oil on Canvas
Please inquire about pricing.
"Thirteenth and Locust" by one of St. Louis's premire WPA painters
was exhibited at the "Annual Exhibition of Paintings and Sculpture by artist of St. Louis and Vicinity" which was hosted by the St. Louis Art Museum in 1938.
This exhibition sized canvas features Christ Church Cathedral in the background
as an elderly man and a young woman gaze to the viewer giving a sense of the struggles of the day.
It is always exciting when we acquire a painting that allows us to step back into the past and admire
one of St. Louis's most treasured architectural landmarks.
All the Best,
Scott Kerr
_____________________________________________________________________________
www.mccaughenandburr.com
117 West Lockwood Avenue, St. Louis, Missouri, 63119
314.961.7786
[email protected]