(314) 961-7786
117 West Lockwood Ave, St. Louis, Missouri 63119
McCaughen
& Burr
Fine Arts

McCaughen and Burr was founded in 1840 and is the oldest continuously operating art gallery west of the Mississippi River. Throughout the years, the gallery has been instrumental in helping to establish St. Louis as a major venue for Artists. From the Westward Expansion to the present, McCaughen and Burr has been integral in the advancement of the Missouri Art Scene.
Upcoming Exhibition
Fine Art & Fashion
May 19th, 2023
Founded in 1840, McCaughen & Burr Fine Art has been long dedicated to representing the best in American and European Fine Art.
Steeped in tradition, McCaughen & Burr maintains a collection of important original works by Americas finest past painters. With a focus on the St. Louis and Missouri region, artists such as Joseph Meeker, George Caleb Bingham, Thomas Hart Benton, Joe Jones, Joseph Vorst, and Paul Cornoyer are among those represented.
Today, McCaughen & Burr also specializes in WPA works as well as mid-century Abstract and Modernism. Artists such as Edward Boccia, Siegfried Reinhardt, and Joseph Meert can be found among those represented. In addition to past artists, McCaughen & Burr represents a select group of living Missouri painters. Works by John Odell and Roland Burrow are featured in the gallery.
The gallery maintains an active group of clients, including private collectors, museums, and other dealers. We are always interested in purchasing or receiving on consignment works of art in our various specialties.
McCaughen & Burr provides a complete range of Fine Arts services. Appraisals, framing, restoration and conservation are all available from our experienced and knowledgeable staff.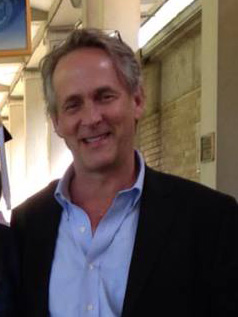 A graduate of Indiana University, Scott Kerr has been professionally engaged in the art world for more than 20 years. As the president of McCaughen & Burr Fine Arts, Kerr is involved in the daily valuation and acquisition of paintings. His gallery specializes in both American and European art with an emphasis on American regional art of the 1930s through the 1950s. He is actively involved with his community and has been recognized for his leadership in urban renewal, his work with youth, and his support of community programs.