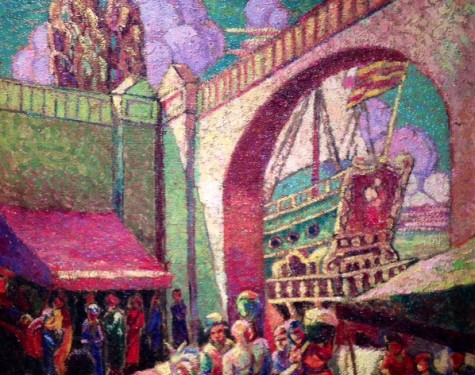 Purveyors and Restorers of the Fine Arts
Painting of the Week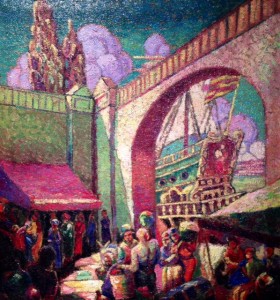 Joe Jones
"Marketplace"
30″ x 27 1/2″
Oil on Burlap
We thought you would enjoy seeing this newly found work of art. The painting is signed and dated "Joseph Jones, 1929".
The back of the burlap is stamped "Purina Hen Chow" giving this canvas an authentic St. Louis flair.
This early stylization reflects the influence of St. Louis's master painter Fred Greene Carpenter.
Carpenter had traveled to North Africa in 1927
and had completed a series of works that documented what he had experienced. Jones was clearly influenced
by this exhibit as is evident in this work.
This is a unique opportunity to own a powerful early work by one of St. Louis's most noteable artists.
Please call or stop by, we would love to hear from you.
For a full viewing of the works please visit our website, www.mccaughenandburr.com.
All the Best,
Scott Kerr