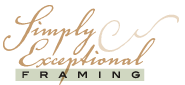 McCaughen and Burr has long recognized that a beautiful work of art is more fully enhanced by its immediate setting and presentation. With this in mind, we maintain a full framing division to serve the needs of our clients. In addition to a general line of frames, we also specialize in hand carved and 22k gilt frames of exceptional quality.
We regularly consult with patrons whose collections include a wide variety of art from every conceivable period of expression. Our framing experts have dealt with nineteeth century impressionists work as well as with sixteenth century icons and twentieth century modernists. In selecting appropriate frames for any of these works of art we draw upon our extensive knowledge of art expertise as well as more than 40 years of combined framing experience.
The framing staff of McCaughen and Burr does not limit itself to only paintings and prints. We also specialize in helping you to find the proper showcase for your family memorabilia, special recognition pieces and objects that for various reasons are important to you. Whatever your framing needs might be, McCaughen and Burr will assist you in making that simple request for presentation an exceptional work of art.