Restoration / Conservation
McCaughen and Burr Fine Arts has been engaged in conservation and restoration since it's founding in 1840. An acknowledged expert in this specialized field, McCaughen and Burr employs an experienced staff whose knowledge and expertise employs the latest techniques to care for paintings, prints and other fine arts objects in need of conservation and/or restoration talents.
We specialize in cleaning as well as in areas in which a work may require major repair due to fire or water damage. McCaughen and Burr also specializes in mural works that need either cleaning or restoration. Our clients include corporate, government, religious as well as private individuals. Testimonials and references are available upon request.
Please contact us with conservation or restoration questions. Our courteous and knowledgeable staff is always helpful and directive in regard to your needs.
A partial list of past and present clients includes:

The Mercantile Library
Anheuser Busch
Washington University
Missouri State Capital
Bellereve Country Club
The Old Cathedral – St. Louis, Missouri
Tower Grove Parks
Algonquin Golf Club
Cupples Mansion
Lambert St. Louis Airport
The Bogey Club
St. Stanislaus Kostas Church
Eugene Fields House
St. Louis County Government
Webster University
Ralston Purina Corporation
Bank of America
Truman State University
The University Club
St. George and St. Michael Church
University of Missouri St. Louis
St. Louis University
MacDonald Douglas Corporation
St. Louis Country Club
Webster Groves Public Library
and
Numerous Private Collectors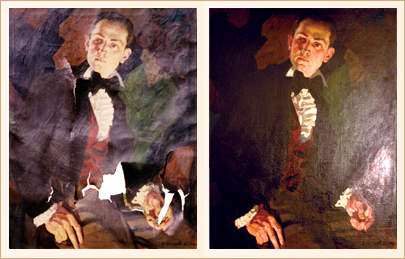 Restoration Examples